"My Baby Just Cares for Me" This great jazz standard written by Walter Donaldson with lyrics by Gus Kahn. It was written for the 1930 film version of the 1928 Ziegfeld musical comedy Whoopee!.
It is known as the signature tune of singer and pianist Nina Simone.
Nina Simone – My Baby Just Cares For Me

Nina Simone recorded this song in 1958 for her debut album named "Little Girl Blue". The track remained relatively obscure until 1987, when it was used in a UK television commercial for Chanel No. 5 perfume.
Other recordings
George Michael arranged and recorded a version of My Baby Just Cares for Me for his 1999 album Songs from the Last Century.
Nat King Cole, Amanda Lear, Mel Tormé, Mary Wells and Alex Chilton. Frank Sinatra recorded a version of this song for his 1965 Reprise album Strangers in the Night.
Dick Van Dyke in the 60s re-recorded the song for his album Songs I Like.
In the Woody Allen movie Everyone Says I Love You there is an extended musical dance scene of the song performed by Edward Norton and Natasha Lyonne
Holden (Edward Norton) brings his soon-to-be sister-in-law Djuna a.k.a. D.J. (Natasha Lyonne) to pick out an engagement ring for his fiancee, Skylar (Drew Barrymore), and the song breaks out.
Alex Chilton recorded his version on his album Cliches released in 1994 by Ardent Records.
Indigo Swing had great success with their 1998 rendition on their My Baby Just Cares for Me album.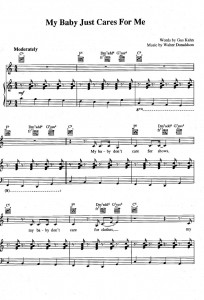 My Baby Just Cares for Me – Piano Sheet Music with Lyrics – PDF, 7 page, free download from Sheet Music ME